"The Pied Piper Of Cleveland"
On the day of October 20th, 1955, the "King of Rock & Roll", Elvis Presley, along with a few other popular music groups visited the auditorium of Brooklyn High School.
It all started with a movie called "The Pied Piper Of Cleveland", a musical documentary to be taped in Cleveland. The makers of this movie asked a local Radio Station, WERE, to find them an audience to use with the musical groups they planned on presenting. These musicians were Bill Haley & The Comets, The Four Lads, Pat Boone, and... Elvis Presley.
Disc-Jockey of WERE, Bill Randle, took control of this project, making a city-wide contest out of it. High Schools all over the area were competing in different ways to show their appreciation to these musicians, just to see them, live and in person. This is where Brooklyn High School Principal, John Nieman, came into the picture. Not only did he show his enthusiasm for this event by gathering all the students together in the school auditorium and taped an assembly showing their hype for concert, but it also happened that John Niemen was friends with the DJ holding the contest. Whether it was the connections to the radio station that got us the concert or if it was the taped assembly that did it, all that matters is that Brooklyn High School was the host of the first concert in the northern United States by Elvis Presley.
So on October 20th, 1955, these talented groups and a newcomer named Elvis were brought to perform on stage at Brooklyn High. The auditorium packed in 600 teachers and students for the event, only hoping to see favorites Boone, Haley, and the Four Lads.
The typical concert was given to the onlookers. The crowd made a good one for the taping of this movie, reacting to the music as any loving crowd would. At the end came a man in an orange suit, smiling, singing, dancing like no other musician had danced before. What the attendance did not know at the time, was that this man in the orange suit, Elvis Presley, would soon take over Rock and Roll, and change it forever.
Elvis performed for 20-25 minutes, singing the songs, "Mystery Train", "That's All Right", "Blue Moon Of Kentucky", "Good Rockin' Tonight" and "I Forgot To Remember To Forget". Elvis was paid $350 for this performance, an amount much smaller than the other performers.
Thoughts On The Concert...
As you probably know by now, Elvis was definitely NOT the headlining performer of this event. In fact, he was most likely just a simple fill-in for the movie that was taping. There are current staff members at BHS who were students at the time of Elvis's appearance. When asked their thoughts about the event, and considering the fact that Elvis was an unknown, it was no surprise that they responded as follows:
Pat Smith, Eyewitness of Brooklyn High School
Pat Smith, an 8th grader at the time, recalls the concert: "The concert was good. I especially liked Rock Around The Clock." But when asked about Elvis's presence in the event, she was quick to respond, "He was just an add on, nothing really spectacular. He was just different." And that Elvis was. "He had a different sound, and danced like no other. He was really different.". She still believed that Elvis put on a good show, and wasn't too surprised to see Elvis make it big.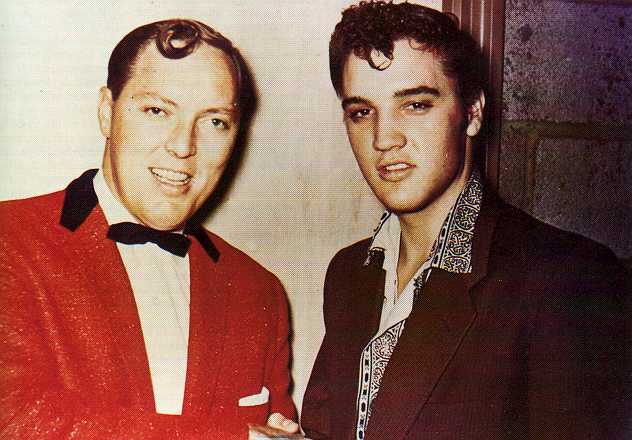 Bill Haley and Elvis Presley
Bill Haley crossed paths with Elvis on a number of occasions. Remarkably, it was on Bill's 29th birthday, on 6th July 1954 that Elvis Presley made his first record That's All Right, Mama in the Sun Studios in Memphis, Tennessee.
Bill and Elvis first met in October 1955. Haley was at his absolute peak with Rock Around the Clock having gone to number one in the charts in June. Haley was sharing the billing with Hank Snow on a tour of the mid-west. There at the bottom of the posters was a little-known act - Elvis Presley with Scotty & Bill. According to Bill, he and Elvis became very close for the two weeks of the tour, sharing Bill's car for travelling between shows, discussing music, and guitars, and Elvis's hopes for the future, which Bill remember consisted chiefly of wanting to by his mum a Cadillac.
The show at Brooklyn High School in Cleveland, Ohio, was filmed. Bill Randle, a prominent and powerful disc jockey in Cleveland, Ohio, had recently contracted with Universal Pictures to make a movie called The Pied Piper of Cleveland: A Day In The Life of a Famous Disc Jockey. On a number of occasions, Bill travelled to Cleveland at Randle's request, to give freely of his services. The pay off was the assurance that Randle would continue to air his discs. The film was never released, but it has been rumoured recently that the master has been purchased by London film collector Ray Santilli. On a trip to the States in 1992, searching out rare footage of Elvis Presley, Santilli had met Bill Randle and secured an option on the rare footage. Intriguingly, the story has now become enmeshed in the controversy surrounding the film of the infamous "Roswell Incident", as it appears that the same cameraman was involved. Whether we shall ever see the film, I have no idea, though I did once speak to someone who claimed to have seen backstage footage of Bill shaking hands with Elvis. This picture, which hung for many years in Bill Haley'sown office in Chester, Pennsylvania, is believed to have been taken backstage at this show.
Bill Randle
The date was January 28, 1956. The television program was called "Stage Show" and it was on Saturday evenings on CBS-TV beginning at 8:00 p.m. The program was hosted by two brothers from the Big Band days, Tommy and Jimmy Dorsey. But they didn't introduce the new singer that night. That honor was given to a Cleveland disc jockey, Bill Randle. I remember he was wearing a dark suit and tie, and wore black horn-rimmed glasses. He looked more like an accountant than a rock n' roll disc jockey. His introduction was short. This is what he said on that cold winter night:
We'd like at this time to introduce to you a young fellow, who like many performers, Johnnie Ray among them, come up out of nowhere to be overnight very big stars. This young fellow we met for the first time while making a movie short.
We think tonight that he's going to make television history for you. We'd like you to meet him now - Elvis Presley. And here he is!
The Missing Film
In 1966, the film, "A Day in the Life of a Famous DJ" (aka: "Pied Piper of Cleveland") was recognized as "missing". By now, Elvis had developed into a major star and people were frantic to find this tape that contained his first-ever live appearance. All eyes were focused on Disc Jockey, Bill Randle, and cameraman, Jack Barnett. For 37 years, Randle refused to reveal the tape, claiming he did not have it. As for Barnett, he died one year after the tape was declared missing, making the situation even worse. 37 years after the 1955 concert, according to a story in People magazine, January 11, 1993, Bill Randle sold the rights to this movie short, for a reported $1.9 million dollars to a British production company. They in turn sold the film to Polygram for $2.2 million dollars. There has been much dispute as to whether this film short still exits, or in fact ever existed.
Who is Ray Santilli ?
The big break in the investigation of the alien autopsy film came at the end of September, 1995, when TF1 reporter Nicolas Maillard located Cleveland, Ohio, disc jockey Bill Randle, the real source of the early Elvis Presley footage -- footage which Santilli said had been sold to him by the cameraman during a trip to the United States in 1993. As it turns out, the purchase of the Elvis film actually took place in Bill Randle's office on July 4, 1992, in the presence of Gary Shoefield. In a November 28, 1995, phone conversation, Bill Randle told me that as soon as Santilli purchased the film (after hours of negotiations) at $1.9 million dollars, he immediately turned around and sold it to Gary Shoefield, who was representing the British film company Polygram. The transaction took place right in Randle's office.
The footage, to which Santilli purchased the rights, is the first-known film of Elvis Presley live on stage and is part of a larger documentary that was a joint effort between Bill Randle and Universal Pictures in 1955. The footage sold to Santilli is relatively short and includes segments from two concerts -- an afternoon performance at a Cleveland high school and an evening show at a local Cleveland auditorium. Both performances took place on Thursday, October 20, 1955, and featured the Four Lads, Bill Haley and the Comets, Pat Boone, and the then-unknown Elvis Presley. Both performances were filmed by a freelance photographer who had been hired by Bill Randle -- a photographer named Jack Barnett, who had died in 1967.
It is important to keep in mind that in television interviews, radio interviews, personal interviews, and Internet postings, Ray Santilli has repeatedly told of how the cameraman, after having shown Santilli the Elvis film, announced that he had "something else" to show him -- the now-famous "Alien Autopsy" (Roswell) footage. Santilli has repeatedly and unequivocally claimed that the cameraman from whom he acquired the 1955 Elvis footage was the same cameraman from whom he purchased the alien autopsy footage.
Roswell Case
So where did this film come from and who is offering it? According to Santilli, he was offered the film in the presence of a Fox TV executive while procuring footage of Elvis Presley for a biography Santilli was then producing. The man he was purchasing footage from was an elderly ex-military intelligence photographer and camera man. Santilli was purchasing unpublished footage of Elvis as a soldier which has since been included in a video production on the life of Elvis.
The seller of the film apparently went on to offer Santilli 15 cans of undeveloped film, filmed by him while in the military, of the Roswell crash scene from the ground and air, and of the alien autopsies. He claims he was the military intelligence photographer recording events as they occurred. Because of the highly unusual nature of events, apparently proper channels were not followed and when it came time for Washington to collect the film, only two cans were developed and retrieved, the rest were left with the camera man. For the next 46 years he had hidden the film, afraid of reprisals from the government should he show it. Now, as an elderly man, he was looking for a substantial sum of money to buy a house for his niece as a wedding present and decided to sell the film. The man dragged out the old cans and permitted a small piece of film to be cut from the leader on one film to be taken to London for analyses.
RESPONSE OF RAY SANTILLI
Encounters Forum Message
Date: 03-Mar-96 17:41
Dear AlI,
I have seen the report by Kent Jeffery and the Press release that goes along with it.
Firstly I would like to commend Kent on the work that he has put into it and the effort it represents, It's just a shame he has wasted so much time preparing a document based on incorrect information and wrong assumptions.
There are a few points I would like to respond to :-
1. I have never stated that the name of the cameraman was Jack Barnet. I have ALWAYS made it clear that this was an adopted name to protect the identity of the cameraman.
2. My promise to the cameraman was not to give out details of his identity or give out information that would lead people to him. If people think that my description of the film acquisition is flawed, they are ignoring the problems that accompany such a promise..
3. Kent seems to believe that the only person I was trying to purchase film from in Cleveland during the trip of 1992 was Bill Randle. WRONG, the whole reason for the trip was to meet collectors of primarily Elvis memorabilia The fact is, myself and Gary Shoefield came back from that trip with 18 separate clips of film from 6 sources. One of those sources being the Cameraman. As a matter of interest we were not able to get any film from Randle (old disc Jockey).
4. The cameraman has absolutely nothing to do with Bill Randle or the cameraman that shot Randle's film.
5. The cameraman did shoot footage of Elvis (which we purchased) and did freelance for Universal News, as most qualified film cameramen did during the 50's (union strikes). The cameraman is alive and in his 80's
6. I stand by the cameraman story, but until I am allowed, I will never offer his identity.
7. Much has been made of the fact that there were many qualified cameramen stationed nearer to the scene, why then was ours sent ? The answer is simple, not all cameramen had the necessary clearances.
8. It has been stated that film was always sent back to Kodak for processing. WRONG, not in matters of National Security.
9. It has been stated that the stamp/seal on the film covers is nothing like stamps used for film. RIGHT, the stamp relates to the nature of the event the film was used for and the department the film was required for. not the film itself.
10. It has been stated that autopsy's were filmed in colour. Our cameraman doesn't recall any Autopsy being filmed prior to this one,
11. It has been claimed that the military never filmed the Ram-Jet. WRONG it was being assessed for use in the military of course they filmed it, they used it in trials.
The above takes care of most of the issues, the rest is old ground. It now seems that the UFO community is being lead by a circle of people to a point where the film may be dismissed as a fake. That's fine by me....I have no desire to continue a fight, when I am not able to fight back or use ammunition. In addition I don't really care, as you all know this is not my subject. The sad thing is that the film holds the real answer to what happened in 1947, But what will leading UFO investigators have to investigate when the answer has been provided.
Best regards,
Ray Santilli
---