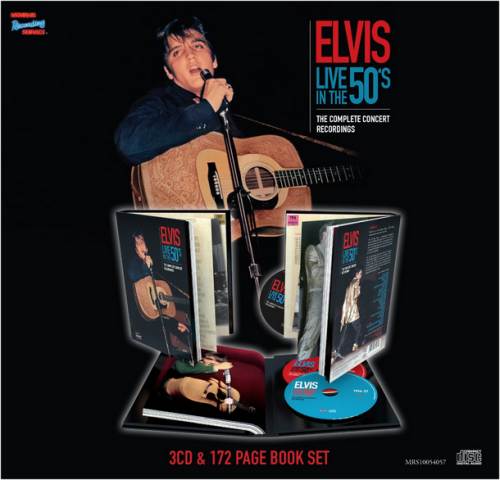 "Elvis Live In The 50's - The Complete Concert Recordings" (3-CD + Book)
Release Date; Feb.19, 2016

Memphis Recording Service will have its first release in 4 years titled ELVIS LIVE IN THE 50's - THE COMPLETE CONCERT RECORDINGS on February 19th 2016. This box set is the ultimate tribute to Elvis Presley documenting his shows from the 1950's. The 3 CD's represent for the first time ever, the release of the complete collection of archival live concert recordings (including rare interviews and the recently discovered new material) by Elvis Presley in the 1950's.
All of the 82 tracks included have been painstakingly remastered and restored. Fans who enjoyed previous mastered works of the MRS team such as "Such a Night in Pearl Harbor", "The Complete Hayride Archives" and Boxcar's remastered works of the Orlando February 1977 concert, are in for a treat. Our restoration techniques have now been applied to the Tupelo shows as well as the Eagles Hall, Frontier and Robinson Auditorium shows. Combined with further works on the Hayride and others shows, the quality of these recordings is now far superior to ever before.
The 172 page book is a chronological photo journey following Elvis from the very first to the very last shows performed in the 1950's. It contains linear notes that includes every show listing (now updated) and is accompanied by hundreds of photographs many of which are rare and unpublished.
Tracklisting:
CD1
Hayride Begins Jingle (Oct.16,1954 - Louisiana Hayride)
Introduction/ That's All Right (Oct.16,1954 - Louisiana Hayride)
Blue Moon Of Kentucky (Oct.16,1954 - Louisiana Hayride)
Hearts Of Stone (Jan.15,1955 - Louisiana Hayride)
That's All Right (Jan.15,1955 - Louisiana Hayride)
Tweedlee Dee (Jan.15,1955 - Louisiana Hayride)
Money Honey (Jan.22,1955 - Louisiana Hayride)
Blue Moon Of Kentucky (Jan.22,1955 - Louisiana Hayride)
I Don't Care If The Sun Don't Shine (Jan.22,1955 - Louisiana Hayride)
That's All Right (Jan.22,1955 - Louisiana Hayride)
Radio Spot Commercial for Performance Feb.23, 1955 in Pine Bluff, Arkansas
Tweedlee Dee (Mar.5,1955 - Louisiana Hayride)
Money Honey (Mar.5,1955 - Louisiana Hayride)
Hearts Of Stone (Mar.5,1955 - Louisiana Hayride)
Shake, Rattle And Roll (Mar.5,1955 - Louisiana Hayride)
Little Mama (Mar.5,1955 - Louisiana Hayride)
You're A Heartbreaker (Mar.5,1955 - Louisiana Hayride)
Good Rockin' Tonight (Masr.19, 1955 - Eagles Hall, Houston Texas)
Baby Let's Play House (Masr.19, 1955 - Eagles Hall, Houston Texas)
Blue Moon Of Kentucky (Masr.19, 1955 - Eagles Hall, Houston Texas)
I Got A Woman (Masr.19, 1955 - Eagles Hall, Houston Texas)
That's All Right (Masr.19, 1955 - Eagles Hall, Houston Texas)
Tweedlee Dee (Apr.30, 1955 - Gladewater, Texas)
That's All Right (May 26, 1955 - Jimmie Rodgers Memorial)
I'm Left, You're Right, She's Gone (July 16,1955 - Louisiana Hayride)
Mae Axton Interviews Elvis (July 29, 1955 - Jacksonville, Florida)
Radio Spot Commercial (Aug.10, 1955 for Performance in Gladewater Texas)
Baby Let's Play House (Aug.20,1955 - Louisiana Hayride)
Maybellene (Aug.20,1955 - Louisiana Hayride)
That's All Right (Aug.20,1955 - Louisiana Hayride)
Bob Neal Interviews Elvis, Scotty & Bill
I Forgot To Remember to Forget (October, 1955 - Louisiana Hayride)
Hayride End Jingle (October, 1955 - Louisiana Hayride)
CD2
Heartbreak Hotel (May 6, 1956 - New Frontier Hotel, Las Vegas)
Long Tall Sally (May 6, 1956 - New Frontier Hotel, Las Vegas)
Blue Suede Shoes (May 6, 1956 - New Frontier Hotel, Las Vegas)
Money Honey (May 6, 1956 - New Frontier Hotel, Las Vegas)
Interview at Little Rock Arkansas
Heartbreak Hotel (May 16, 1956 - Little Rock, Arkansas)
Long Tall Sally (May 16, 1956 - Little Rock, Arkansas)
I Was the One (May 16, 1956 - Little Rock, Arkansas)
Money Honey (May 16, 1956 - Little Rock, Arkansas)
I Got A Woman (May 16, 1956 - Little Rock, Arkansas)
Blue Suede Shoes (May 16, 1956 - Little Rock, Arkansas)
Hound Dog (May 16, 1956 - Little Rock, Arkansas)
June 3,1956 - Radio Spot for Elvis Concert in Oakland, CA
Heartbreak Hotel (Afternoon Concert, Sep.26, 1956 - Tupelo, MS)
Long Tall Sally (Afternoon Concert, Sep.26, 1956 - Tupelo, MS)
Presentation Key to the City (Afternoon Concert, Sep.26, 1956 - Tupelo, MS)
I Was The One (Afternoon Concert, Sep.26, 1956 - Tupelo, MS)
I Want You, I Need You, I Love You (Afternoon Concert, Sep.26, 1956 - Tupelo, MS)
I Got a Woman (Afternoon Concert, Sep.26, 1956 - Tupelo, MS)
Don't Be Cruel (Afternoon Concert, Sep.26, 1956 - Tupelo, MS)
Ready Teddy (Afternoon Concert, Sep.26, 1956 - Tupelo, MS)
Love Me Tender (Afternoon Concert, Sep.26, 1956 - Tupelo, MS)
Hound Dog (Afternoon Concert, Sep.26, 1956 - Tupelo, MS)
WTUP Interviews Elvis Presley
CD3
WTUP Interviews Elvis' Parents, Vernon & Gladys
Love Me Tender (Evening Concert, Sep.26, 1956 - Tupelo, MS)
I Was The One (Evening Concert, Sep.26, 1956 - Tupelo, MS)
I Got A Woman (Evening Concert, Sep.26, 1956 - Tupelo, MS)
Don't Be Cruel (Evening Concert, Sep.26, 1956 - Tupelo, MS)
Blue Suede Shoes (Evening Concert, Sep.26, 1956 - Tupelo, MS)
Baby Let's Play House (Evening Concert, Sep.26, 1956 - Tupelo, MS)
Hound Dog (Evening Concert, Sep.26, 1956 - Tupelo, MS)
Announcement (Evening Concert, Sep.26, 1956 - Tupelo, MS)
Heartbreak Hotel (Dec.15,1956 - Louisiana Hayride)
Long Tall Sally (Dec.15,1956 - Louisiana Hayride)
I Was The One (Dec.15,1956 - Louisiana Hayride)
Love Me Tender (Dec.15,1956 - Louisiana Hayride)
Don't Be Cruel (Dec.15,1956 - Louisiana Hayride)
Love Me (Dec.15,1956 - Louisiana Hayride)
I Got A Woman (Dec.15,1956 - Louisiana Hayride)
When My Blue Moon Turns To Gold Again (Dec.15,1956 - Louisiana Hayride)
Paralyzed (Dec.15,1956 - Louisiana Hayride)
Hound Dog (Dec.15,1956 - Louisiana Hayride)
Elvis Has Left the Building (Dec.15,1956 - Louisiana Hayride)

April and August 1957 - CANADIAN FRAGMENTS 1957

Heartbreak Hotel (Toronto Radio Broadcast Fragment Apr. 2,1957)
Hound Dog (Ottawa Fragment, Apr.3, 1957)
MEDLEY - Heartbreak Hotel/I Was the One/I Got a Woman/That's When You Heartaches Begin (Vancouver Fragments, Aug.31,1957)

INTERVIEWS 1957

Interview at Portland Oregon (Sep.2, 1957)
WELO Interviews Elvis (Tupelo, Mississippi, Sep.27, 1957)