ELVIS DVD Video NEWS
(Compiled by Haruo Hirose)

DVD Release Schedule

2001
Apr.10
USA - Warner
(Region 1 NTSC)
That's The Way It Is (S.E.)
May 22
USA - MGM
(Region 1 NTSC)
Frankie And Johnny


June12
USA - Delta
(All-Region NTSC)
Remembering Elvis


July 2
UK - IMC
(Region 2 PAL)
Remembering Elvis
July 3
USA - Westlake
(All-Region NTSC)
Charro!


Aug. 7
USA - Warner
(Region 1 NTSC)
3000 Miles to Graceland
Aug.10
Japan - Warner
(Region 2 NTSC)
That's The Way It Is (S.E.)
Aug.10
Japan - Warner
(Region 2 NTSC)
Viva Las Vegas
Aug.13
UK - Warner
(Region 2 PAL)
That's The Way It Is (S.E.)
Oct. 2
USA - MGM
(Region 1 NTSC)
Clambake


Nov.27
Hong Kong
(All-Region NTSC)
Loving You
Nov.30
DK - EU
(All-Region NTSC)
Elvis, The Colonel & Me
E.U.
Dec. 3
UK - Eagle Vision
(Region 2 PAL)
Classic Albums - Elvis Presley
Dec. 3
UK - Waterfall
(Region 2 PAL)
Elvis - The Missing Years
Dec.12
USA - JAT
(All-Region NTSC)
Elvis: Hot Shots and Cool Clips, Volume 1
WWE
2002
Jan. 8
USA - EMI
(All Region NTSC)
(Re-issue) He Touched Me -
Gospel Music Of Elvis Presley


Jan.29
USA - Passport
Elvis; Final Chapter / Bonus Interviews


Feb. 12
USA - Pioneer
(Region 1 NTSC)
Classic Albums - Elvis Presley


Feb. 19
USA
(Region 1 NTSC)
Elvis - The Missing Years


Feb. 27
Japan - Imagica
(VHS Video only)
Classic Albums - Elvis Presley

は全ての商品 国内配送無料です。
List of Elvis Movies released on "Wide Screen".
(On Pink BG Color) Written in Japanese
注意;  米国の DVD(Region 1)は 日本の DVDプレィヤー (Region 2)では 再生できませんが、 (Region 2 NTSC) (All-Region NTSC) と 書いてあるものは、 日本の DVDプレイヤーで 再生できます。 ヨーロッパの DVD は 同じ Region 2 ですが 記録方式が 異なる(PAL)ために 日本の DVDプレイヤーでは 再生できません。

下記のDVDは 日本のDVDプレイヤーでも 再生できます。 (確認済み)
Aloha From Hawaii (米国盤)  Altenate Aloha Concert (米国盤)  68 Comeback Special (米国盤)  One Night With You (米国盤)  Elvis Complete Story (米国盤)  Elvis 56 (米国盤)  He Touched Me (米国盤)  Charro! (米国盤)  Elvis Presley's Graceland (米国盤)  Frank Sinatra Show (米国盤)  Remembering Elvis (米国盤)  Loving You (香港盤)  Elvis, The Colonel & Me (デンマーク盤)  Hot Shots and Cool Clips, Vol.1 (米国盤)
---
(Dec.18, 2001) (Nov.18, 2001) (Nov. 3, 2001)
New DVD from UK and USA.
"Elvis - The Missing Years"

UK PAL Video & DVD (Region 2 PAL)
Waterfall Entertainment - 140 mins
Release Date: Dec. 3, 2001
Order it from blackstar.co.uk

USA NTSC Video & DVD (All Region NTSC)
Release Date: Feb.19, 2002
Pre-order it from

This special collector's edition DVD box set features a full color DVD with rare footage showing the private man behind the icon plus a 55 minute audio documentary. The set also includes an Audio CD with his early music,including 1954 recordings by Elvis and The Blue Moon Boys such as "Maybellene," "That's Alright Mama," "Blue Moon of Kentucky" and more! Also features rare interviews from his time in the Army, and a 32-page super color booklet with photos, interviews, gossip and insight!
"Elvis - The Missing Years" (US版) は 日本のDVDプレーヤーでも 再生できますが・・・ 内容が・・・
---

(Nov.30, 2001) (Nov.16-14, 2001) (Oct.26, 2001)

Just released!
New DVD from Elvis Unlimited(DK)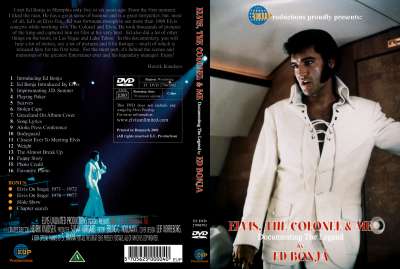 DVD cover (large image)
EU Productions proudly presents:
Elvis, The Colonel & Me
Documenting a legend
By Ed Bonja
This new DVD (code free) and video (pal) is ready to be released mid November 2001. The documentary is in 16 chapters (plus bonus):
1) Who Is Ed Bonja? (including very RARE Colonel footage)
2) Ed Bonja Introduced By Elvis (hear Elvis making fun of Ed)
3) Impersonating J.D. Sumner (this is a funny story...)
4) Playing Poker (see the picture of the guys playing poker with concessions money)
5) Scarves (Colonel selling scarves to Elvis??)
6) Stolen Cape (see photos of Ed and Tom Hulett playing Elvis)
7) Graceland On Album Cover (see other photos taken by Ed of Graceland)
8) Song Lyrics (footage and memorabilia)
9) Aloha Poster (including the press conference from Sep. 5, 1972. With original sound)
10) Bodyguard (great footage)
11) Closest To Meet Elvis (great story about The Colonel)
12) Weight (great footage)
13) The Almost Break Up (Great Footage)
14) Funny Story (funny footage)
15) Photo Credit (great story)
16) Favourite Photo (great picture)
17) Bonus: Elvis On Stage: 1971 - 1972
18) Bonus: Elvis On Stage: 1976 - 1977
19) Bonus: Slide Show (DVD ONLY)
The documentary is filled with never before seen footage of Elvis from the 70's. Especially the early 70's are very interesting. There is a lot of footage where Elvis is wearing two-piece suits. All the Elvis Footage is from mega collector Sherif Hanna's collection. We have included 15 minutes of rare live footage and c. 2 of very rare footage of the Colonel visiting The Bonja family. All the footage has speak over or as for the bonus footage, instrumental music ala the 70's.
Playing time:
Documentary (1 - 16) c. 50 min.
Elvis On Stage (17 - 18) c. 15 min.
Slide Show (DVD ONLY) c. 5 min.
Prices:
DVD: US$ 39.99 - £ 29.99 - DKK 349.00
VIDEO (PAL): £ 17.50 - DKK 200.00
BOXSET: DVD, CD (Ed Bonja talks), book; Elvis Shot and signed numbered picture. Only DKK 499.00
Order your copy TODAY! We accept all major credit cards!

Records & Books
Tel.: +45 8646 9230 - Fax: +45 8646 9214
E-mail: Bonja@elvispresley.dk

For wholesale prices: DVD@elvispresley.dk
日本のDVDプレーヤーで 見られました。 パーカー大佐の ホームムービーが 珍しい。
---

(Nov.30, 2001, Thanks to Anthony Britch)
(Nov.21, 2001) (Nov.18, 2001, Thanks to Dave Ritz)

Hi Anthony - I just spoke to acquisitions and our DVD department and found out that we own the rights to this film, but are not ready to put the movie out on DVD at this point in time.
Sarah Crosby
Lions Gate Entertainment (Trimark Pictures)
New Media www.lionsgatefilms.com




VHS cover (USA)
DVD, "Loving You" will be released in the States on Nov.27.
(Imported from Hong Kong)
?? Region 1, NTSC, $32.54

DVD cover (Hong Kong)
Barnes & Noble lists it as "Region 2 Release from Ocean Shores Video in Hong Kong". (Now it was deleted from B&N DVD lists)
CD(Video) Universe also sells the DVD.

I have this DVD from Hong Kong.
It is in English version (with Chinese subtitles on/off)
Digital remastered for superior sound and picture quality.
NTSC standard, 'All' Region Code (no Region 2 coded)


香港製「さまよう青春」DVDでしたら リージョン・フリー、 NTSC ですから 日本製プレイヤーでも 再生可能です。
---

(Aug.22, 2001, Thanks to Don Wilson)

"Elvis; Final Chapter / Bonus Interviews" DVD from Passport International Productions

It is unknown if Joe Esposito will host as we are still considering who may. Joe and I are consultants for the specials along with the CEO of Passport. I have conducted appox. 200 interviews with Elvis' fans,friends,family,musicians and co-stars. The series is a true labor of love for Elvis.

We have great footage and photos,but we are searching for any original, rare, unseen photos, films and recordings to use. If any of the fans wish to help, please have them contact me. There is also a new Yahoo Club site which has just been started. It's called The Elvis Project.

The due date for the series will be August of 2002.

Interviews we have taped are; Joe Esposito (Elvis' Road Manager); Jerry Schilling (Bodyguard); George Klein (DJ/Friend); Richard Davis (Bodyguard/Movie Stan In); Sonny West (Bodyguard); Patty Perry (Hair Stylist); Larry Geller (Hair Stylist); Charlie Hodge (Guitarist/Friend); Sam Thompson (Bodyguard); Eddy Arnold (Entertainer); Glen Campbell (Entertainer); Bill Medley (Entertainer); Phyllis McGuire (Entertainer); Kenny Rogers (Entertainer); Billy Swan (Entertainer); Mac Davis (Songwriter/Entertainer); Jerry Weintraub (Producer); Sam Phillips (Sun Records Founder); Anita Wood (Elvis' Girlfriend); Tony Curtis (Actor); Teri Garr (Actress); Tab Hunter (Actor/Singer); Loanne Parker (Colonel Parker's wife); D.J. Fontana (Elvis' Original Drummer); Gordon Stoker (The Jordanaires); Ray Walker (The Jordonaires); James Burton (Guitarist); Ronnie Tutt (Drummer); Jerry Scheff (Bassist); Glen D. Hardin (Pianist); Tony Brown (Keyboards); Myrna Smith (The Sweet Inspirations); Joe Guercio (Elvis' Orchecstra Conductor); Ben Speer (Gospel Singer); Anita Mann (Dancer); Sheree North (Actress); Don Wilson (Friend); Cassandra Peterson (Elvira) ); Bill Reynolds (Make Up Man); Kathy Blondell (Make Up Lady); George Barris (Custom Car Builder); Rick Husky (Producer); James Darren (Actor); Denese Dody (Promoter); Connie Stevens (Actress ); Barbara Leigh (Actress/Girlfriend ); Matt Cimber (Producer); Shelia Ryan (Girlfriend); June Wilkinson (Actress/Model); Steve Binder (Producer/Director); Chris Beard (Writer); Earl Brown (Songwriter); Cindy Esposito (Friend); Shirley Dieu (Friend); Gail Ganley (Girlfriend); Bill Belew (Costume Designer); Bob Finkel (Producer); Allen Blye (Writer); Sharon Sheeley (Songwriter); Mary Jo Sheeley (Friend); Laurel Goodwin (Actress); Stella Stevens (Actress); Mary Ann Mobley (Actress); Jan Shepard (Actress); Valerie Allen (Actress/Girlfriend); Pat H. Broeske (Writer); Steve Rossi (Actor); Wink Martindale (Radio/TV Personality); Sandy Ferra (Girlfriend); Cynthia Pepper (Actress); Deborah Walley (Actress); Jim Mydlack (Colonel Parker Asst.); Steve Wynn (Colonel Parker Asst. ); Elaine Young (Realtor); Bill McKenzie (Colonel Parker's Accountant); Billy Barty (Actor); Celeste Yarnall (Actress); Tommy Sands (Singer/Actor); Steve Murphy (Impersonator); John O'Hara (Writer); Jackie Joseph (Actress); Hal Kanter (Screenwriter); Jean Lazenby (Fan); Mary Jenkins (Cook); Chris Noel (Actress); Jeanne Carmen (Model/Actress); Alex Romero (Choregorapher); Mike Freeman (Owner of Elvis' Audobon Drive home); Francine York (Actress); Sue Ane Langdon (Actress); Jack Clement (Sun Records Producer); Buddy Killen (Musician/Publisher/Producer); Betty Harper (Artist); Robin Roseann (Collector); Jules Levy (Producer); Arthur Gardner (Producer); Lance LeGault (Actor/Stand In); Rita Rogers (Actress); A.C. Lyles (Producer); Eileen O'Neill (Actress); Glen Glenn (Singer); Gary Lockwood (Actor); Gloria Pall (Actress); Elaine Ballace (Actress); Dolores Fuller (Songwriter); Barbara McNair (Singer/Actress Inge Jaklin (Actress); Hugh O'Brian (Actor); Jackie Kahane (Comedian); Sammy Shore (Comedian); Johnny Tillotson (Entertainer); Mary Lou Ferra (Red Velvet Lounge); Christina Ferra (Friend); Mickey Moore (Director); Robert Lopez - Elvez (Impersonator); Joe Delaney (Las Vegas Sun Writer); Mindy Miller (Girlfriend); Steve Stevens (Actor); Shecky Greene (Comedian); Stan Brossette (Publicist); William Campbell (Actor); William Schalleret (Actor); Tommy Amato (Music Conductor/Wayne Newton); Keith Alverson (Photographer); Emilio Micelli (Matrei'd); Mike Morris (Hilton); Mike Norman (Hilton); Sonny King (Comedian); Malcom Leo (Producer); Andrew Solt (Producer); Reggie Young (Guitarist); Bobby Emmons (Keyboards); Bobby Wood (Keyboards); Professor Teri Brown (Christian Bros. University); Ann Ellington Wagner (Gov. Buford Ellington's daughter)
---

(Aug.18, 2001, Thanks to Jean Michel) (Aug.10, 2001)

New DVD from Brazil

(large image)
Elvis Presley (PAL) from Brazil.

This DVD includes a US TV program from 1993, featuring interviews of close friends (Joe Esposito , JD Sumner...) + RARE LIVE FOOTAGES (taken from 8/super 8) from Lubbock 55 to Rochester 77 (a few seconds from INDIANAPOLIS) for the first time on DVD !!! (BUT NO ELVIS SINGING)
Overall quality is quite good, although most of the movie trailers shown are taken from bad sources and it also shows a filmography.
Total running time: 45 min.
English & Portuguese languages.
(Note : Peter Graves , who appears on the cover, has nothing to do with thisprogram)
---

(Aug.17, 2001) (Aug.13, 2001, Thanks to the Memphis Kid)
(Aug. 1, 2001, Thanks to Yuuji Matsuba)
(June 26, 2001)

For British Elvis Fans (PAL TV Users Only)

ELVIS: That's The Way It Is
SPECIAL EDITION

Available on VHS and DVD on 13th AUGUST 2001


DVD Box font

DVD Box back

ELVIS: That's The Way It Is
SPECIAL EDITION

Special Features on VHS
Suspicious Minds Music Video, Original and 2001 Special Edition Theatrical Trailers.

Special Features on DVD
"Patch It Up: The Restoration of That's The Way It Is" and Original Theatrical Trailer.

Elvis: That's The Way It Is will be stunningly presented, with the VHS packaged in a warm clamshell box with gold foil titles.

There will also be a highly collectable BOX SET for both VHS and DVD that include a limited edition 4 track EP, 5 large sized postcards, A2 sized original theatrical poster and Special Edition booklet providing a highly sought after collectable.
| | | | | |
| --- | --- | --- | --- | --- |
| card 1 | card 2 | card 3 | card 4 | card 5 |
---

(Aug.10, 2001)

New DVDs
---

(Aug. 1, 2001) (July 4, 2001)
ElvisWorld-Japan
Scoop Photo!

New DVD in USA
"CHARRO!"
Westlake Entertainment Group
Release Date: July 3, 2001
All-Region NTSC $11.96 plus S&H

 「殺し屋の烙印」の DVDが 手に入りました。
 日本の DVDプレイヤーでも 再生できます。 画質は それほど良くありません。 画面は TVサイズで ワイド・スクリーンでは ありません。
---

(July 27, 2001) (June 2, 2001) (May 19, 2001)
2 New DVD's from Warner Home Video - Japan
(Release Date; Aug.10)


That's The Way It Is

(DL-65058)
2500yen

Viva Las Vegas

(DL-56615)
2000yen

 ワーナーより、8月10日に 「エルビス・オン・ステージ、 スペシャル・ エディション (That's The Way It Is, Special Edition)」 (\2500) と 「ラスベガス万才 (Viva Las Vegas)」 (\2000) のDVDが 発売されます。

 お近くにビデオ販売店が無い場合は、 ネット通販を 利用されると 便利でしょう。 HMVジャパンでは、 2500円以上の お買い上げについては、 日本全国 送料無料です。 エルヴィスのDVDは ここにあります。 「エルビス・オン・ステージ、 スペシャル・ エディション」の VHSビデオ発売は ありませんので、 ビデオ版 希望のかたは、 アメリカ版が 2390円で ここにあります。

 eMedia.co.jp (ワールド・エンタテイメント・メディア)では、 日本版・ 外国版の CD・ビデオ、 全て送料無料です。 通販やオークションを 利用される時の 注意点は、 意外と 配達送料 及び 代金振込の 手数料が 高くつくことです。 上記のサイトでは クレジット・カード払い、 着払いも OKです。

 Amazon.co.jpも ビデオ・DVDの 発売を始めました。
(エルビス・ オン・ステージ )
(ラスベガス万才 )
---

(July 21, 2001) (July 14, 2001) (July 3, 2001)
ElvisWorld-Japan
Scoop Photo!

New DVD in USA
"CLAMBAKE" (MGM Home Video)
Release Date: Oct. 2, 2001
Letter Box, 2.35:1
Special Features: Theatrical Trailer
Sub-titles: French, Spanish
Retail Price: $14.95
---

(July 10, 2001, Thanks to Christian)

NEW DVDs
Passport International Production will release a series of DVD on Elvis for the end of 2001.
15 hours series will include more than 100 interviews of close friends, Elvis musicians and fans filmed in last 2 years and many candid concert films. Joe Esposito will host the series.
(Passport Video released DVDs like "Elvis The Complete Story", "Hollywood Rock 'n' Roll in the 50s" and others.)
---

(June 25, 2001, Thanks to Christian)

NEW DVD
The Great Performance Vol.I, II and III(From the Waist Up) are coming on DVD for August.
Andrew Solt Production/Sofa Entertainment
---

Go to: Previous DVD News (Oct.2000 - May 2001)
Go to: Previous DVD News (June-Sept, 2000)
Go to: Previous DVD News (Jan-May, 2000)