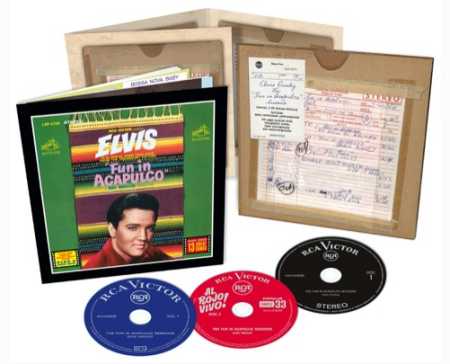 The Fun In Acapulco Sessions (3-CD)
[FTD #1076] Release Date; March, 2019
This is the ultimate FUN IN ACAPULCO 3-CD set: includes more than an hour of previously unreleased false starts, break downs, and complete takes! All tracks have been recently remixed and mastered from the original 3-track session tapes. The 8"x 8" slipcase replicates RCA Victor's vault-stored session reel box. The 28-page booklet includes rare photographs, memorabilia, session data, Movie Trivia and an updated overview of the movie by Alan Hanson. The 3-CDs are housed in a CD carrier adorned by original tape box documentation.
Tracklisting:
DISC 1: THE ORIGINAL ALBUM
Fun In Acapulco
Vino, Dinero Y Amor
Mexico
El Toro
Marguerita
The Bullfighter Was A Lady
No Room To Rhumba In A Sports Car
I Think I'm Gonna Like It Here
Bossa Nova, Baby
You Can't Say No In Acapulco
Guadalajara
Love Me Tonight
Slowly But Surely

OUTTAKES

Bossa Nova, Baby (takes 1-2)
Bossa Nova, Baby (take 3)
Bossa Nova, Baby (takes 4-5)
Bossa Nova, Baby (take 6)
Bossa Nova, Baby (takes 7-8)
Bossa Nova, Baby (take 9)
Bossa Nova, Baby (takes 10 & 11/M)
I Think I'm Gonna Like It Here (take 1)
I Think I'm Gonna Like It Here (takes 2-5)
I Think I'm Gonna Like It Here (takes 6-7)
I Think I'm Gonna Like It Here (takes 8-9)
I Think I'm Gonna Like It Here (splice of take 10 and one line from take 7/M, record version)
Mexico (takes 1-2)
Mexico (takes 3-4)
Mexico (take 5/M)
DISC 2: OUTTAKES
Mexico (take 6)
Mexico (take 7/alternate M)
Mexico (instrumental takes 1-2 & 3/M)
The Bullfighter Was A Lady (takes 1-3)
The Bullfighter Was A Lady (takes 4-6)
The Bullfighter Was A Lady (take 7)
The Bullfighter Was A Lady (takes 8-9)
The Bullfighter Was A Lady (splice of takes 9 & 7/M, record version)
Marguerita (take 1)
Marguerita (takes 2-6)
Marguerita (takes 7 & 8/M)
Vino, Dinero Y Amor (take 1)
Vino, Dinero Y Amor (takes 2-3)
Vino, Dinero Y Amor (take 4)
Vino, Dinero Y Amor (take 5/M)
Vino, Dinero Y Amor (The Amigos, cafe version take 1)
Vino, Dinero Y Amor (The Amigos, cafe version take 2)
Vino, Dinero Y Amor (The Amigos, cafe version take 3)
Vino, Dinero Y Amor (The Amigos, cafe version take 4/M)
Vino, Dinero Y Amor (The Amigos, boat version takes 1-2 & 3/M)
No Room To Rhumba In A Sports Car (take 1/M)
Fun In Acapulco (take 1/M)
El Toro (take 1)
El Toro (take 2)
El Toro (splice of takes 2 & 1/M)
I Think I'm Gonna Like It Here (takes 11-13)
I Think I'm Gonna Like It Here (takes 14-15)
I Think I'm Gonna Like It Here (takes 16-18)
I Think I'm Gonna Like It Here (take 19)
DISC 3: OUTTAKES
I Think I'm Gonna Like It Here (splice of takes 19 & 18/M, movie version
The Bullfighter Was A Lady (take 10)
The Bullfighter Was A Lady (takes 11-14)
The Bullfighter Was A Lady (takes 15-16)
The Bullfighter Was A Lady (take 17/M, movie version)
Malaguena (track, take 1)
Malaguena (track, takes 2-10)
Malaguena (track, splice of takes 6 & 10/M)
You Can't Say No In Acapulco (takes 1-4)
You Can't Say No In Acapulco (take 5/M)
Guadalajara (track, takes 1-2)
Guadalajara (track, takes 3-4)
Guadalajara (track, take 5)
Guadalajara (track, takes 6-7)
Guadalajara (track, splice of takes 1, 5 & 7/M)
Guadalajara (v.o. takes 1-2)
Guadalajara (v.o. takes 3-4)
Guadalajara (v.o. takes 5-6)
Guadalajara (v.o. takes 7-10)
Guadalajara (v.o. splice of takes 6 & 2/M)