---
ELV1S 2003
Jan.1
BMG-DK
[FTD #20] Elvis At The International (Aug.23, 1969, MS)


Jan.7
BMG-USA
Elvis 56 (Remastered)


Jan.7
BMG-USA
Great Country Songs (Remastered)


Jan.7
BMG-USA
Heart And Soul (Remastered)


Jan.7
BMG-USA
Can't Help Falling In Love: The Hollywood Hits (Remastered)


Jan.29
Avex-Japan
Lilo & Stitch
Feb.26
BMG-Japan
Elvis 56 (Remastered)
Feb.26
BMG-Japan
Great Country Songs (Remastered)
Feb.26
BMG-Japan
Heart And Soul (Remastered)
Feb.26
BMG-Japan
Can't Help Falling In Love: The Hollywood Hits (Remastered)
Mar.15
BMG-DK
[FTD #21] Elvis - New Year's Eve '76 (Pittsburgh Live)
Mar.29
Toshiba EMI-Japan
To Whom It May Concern (Lisa Marie Presley)
Apr.8
Capitol-USA
To Whom It May Concern (Lisa Marie Presley)


Apr.15
Collectable-USA
Top Album Collection, Vol.1 (5-LP)
Apr.15
Collectable-USA
Top Album Collection, Vol.2 (5-LP)
Apr.21
BMG-DK
[FTD #22] Studio B - Nashville Outtakes 1961-64


Apr.21
BMG-DK
[FTD #1001] It Happened At The World's Fair


Apr.21
BMG-DK
[FTD #1002] Fun In Acapulco


Apr.21
BMG-DK
[FTD #1003] Girl Happy


June
Green Hill-USA
The Movie Songs
June 30
BMG-DK
[FTD #23] Dragonheart (South Bend, 1974)
July 1
BMG-USA
Elvis: Close Up (4-CD Set)


Aug.16
BMG-Japan
Elvis: Close Up (4-CD Set)
Sep.9
BMG-USA
Rubberneckin'(Oakenfold remix) (CD-Single)


Sep.10
BMG-Japan
Rubberneckin'(Oakenfold remix) (CD-Single)
Oct.1
BMG-DK
[FTD #24] Takin' Tahoe Tonight!


Oct.7
BMG-USA
ELVIS: 2nd To None


Oct.8
BMG-Japan
ELVIS: 2nd To None
Oct.22
Victor-Japan
Mystery Train (Original Soundtrack) (Re-issue)
Nov.4
BMG-USA
Elvis: Christmas Peace (2-CD)


Nov.10
BMG-UK
Elvis: 30 #1 Hits, Special Edition (2-CD)


Nov.10
BMG-DK
[FTD-1004] Viva Las Vegas
Nov.10
BMG-DK
[FTD-1005] Frankie And Johnny
Nov.10
BMG-DK
[FTD-1006] Harum Scarum
Nov.26
BMG-Japan
Elvis: Christmas Peace (2-CD)
---
(Oct.31, 2003)
Viva Las Vegas
(FTD #1004) 82876-50412-2
Release Date; Nov.10, 2003

Track Listing:
Viva Las Vegas - 2:22
What'd I Say - 3:03
If You Think I Don't Need You - 2:04
I Need Somebody To Lean On - 2:57
C'mon Everybody - 2:19
Today, Tomorrow And Forever - 3:25
Santa Lucia - 1:10
Do The Vega - 2:25
Night Life - 1:52
Yellow Rose Of Texas / The Eyes Of Texas - 2:55
The Lady Loves Me - 3:43
You're The Boss - 2:45
Today, Tomorrow And Forever (with Ann-Margret) - takes 1,2 - 5:39
Viva Las Vegas - takes 1,2 - 4:27
Night Life - take 3 - 1:59
C'mon Everybody - takes 1,2,3 - 4:05
I Need Somebody To Lean On - take 8 - 3:12
The Lady Loves Me - take 9 - 3:43
You're The Boss - take 3 - 2:45
Today, Tomorrow And Forever - takes 3,4 - 3:40
What'd I Say - takes 1,2 - 3:57
If You Think I Don't Need You 5,7 - 3:20
C'mon Everybody - takes 6,7 - 2:29
Do The Vega - take 1 - 2:45
The Climb - take 9 - 5:19



Harum Scrum
(FTD #1006) 82876-53369-2
Release Date; Nov.10, 2003

Track Listing:
Harem Holiday - 2:19
My Desert Serenade - 1:46
Go East, Young Man - 2:26
Mirage - 2:25
Kismet - 2:09
Shake That Tambourine - 2:02
Hey Little Girl - 2:14
Golden Coins - 1:54
So Close, Yet So Far - 3:00 - Original bonus songs
Animal Instinct - 2:11
Wisdom Of The Ages - 1:52 - New bonus bongs
My Desert Serenade - take 7 - 2:15
Hey Little Girl - takes1,2 - 2:56
Shake That Tambourine - takes 7,8 - 2:38
Golden Coins - takes 3,4 - 2:18
Kismet - takes 1,2 - 2:42
Animal Instinct - takes 1,3,4 - 5:17
So Close, Yet So Far - take 1 - 3:26
Shake That Tambourine - takes 10,16 - 3:04
Hey Little Girl - take 3 - 2:40
My Desert Serenade - takes 2,3 - 2:13
Golden Coins - takes 7,8 - 2:23
Harem Holiday - takes 1,2 - 3:18
Wisdom Of The Ages - take 3 - 2:04
Shake That Tambourine - takes 18,21 - 3:11



Frankie And Johnny
(FTD #1005) 82876-53370-2
Release Date; Nov.10, 2003

Track Listing:
Frankie And Johnny - 2:32
Come Along - 1:50
Petunia, The Gardeners Daughter - 2:58
Chesay - 1:36
What Every Woman Lives For - 2:25
Look Out, Broadway - 1:38
Beginner's Luck - 2:25
Down By The Riverside / When The Saints Go Marching In - 1:54
Shout It Out - 2:15
Hard Luck - 2:50
Please Don't Stop Loving Me - 2:25
Everybody Come Aboard - 1:49
Frankie And Johnny - take 1 - 2:55
Please Don't Stop Loving Me - take 10 - 2:13
Everybody Come Aboard - takes 1,2 - 2:42
Chesay - take 1 - 1:58
Petunia, The Gardeners Daughter - take 2 - 2:53
Look Out, Broadway - takes 3,4,5 - 2:22
Please Don't Stop Loving Me - takes 1,2,3 - 3:00
Shout It Out - takes 1,2,3 - 3:31
Everybody Come Aboard - takes 9,10 - 2:09
Chesay - takes 3,6 - 3:16
Look Out, Broadway - takes 6,7,8 - 2:13
Petunia, The Gardeners Daughter - take 5 - 3:23
Please Don't Stop Loving Me - take 7 - 2:10
Frankie And Johnny - takes 3,4 - 2:45 - Record version
Frankie And Johnny - movie version - 7:01 - Mono acetate source



---
(Oct.30, 2003) (July 25, 2003. Thanks to Elvis From Poland)
"Elvis: Christmas Peace"
82876-52393-2
Release date; Nov.4, 2003


日本盤は11月26日の発売です。
クリスマス・ピース、 キャロル&ゴスペル・バラード
BVCM-37441-42 \3,465.-(税込)

CD 1 - TRACK LISTING
Blue Christmas
Here Comes Santa Claus
White Christmas
Santa Bring My Baby Back
I'll Be Home For Christmas
Santa Claus Is Back In town
O Little Town Of Bethlehem
Christmas Message From Elvis / Silent Night
If Every Day Was Like Christmas
O Come, All Ye Faithful
The First Noel
On A Snowy Christmas Night
Winter Wonderland
The Wonderful World Of Christmas
It Won't Seem Like Christmas (Without You)
I'll Be Home On Christmas Day
If I Get Home On Christmas Day
Holly Leaves And Christmas Trees
Merry Christmas Baby
Silver Bells

CD 2 - TRACK LISTING
Peace In The Valley
I Believe
It Is No Secret
His Hand In Mine
In My Fathers House
Known Only To Him
Mansion Over The Hilltop
Crying In The Chapel
How Great Thou Art
In The Garden
Where No One Stands Alone
Somebody Bigger Than You And I
Without Him
We Call On Him
Only Believe
Amazing Grace
An Evening Prayer
He Touched Me
He Is My Everything
If That Isn't Love
---

(Oct.9, 2003) (Sept.5, 2003) (Aug.14, 2003) (July 24, 2003)
"Elvis: 2nd To None"

US Release Date: Oct.7, 2003
#82876-51108-2
#82876-51108-1 (Vinyl)

『エルヴィス・オンリー・ワン』
日本盤発売 10月8日
BVCM-31104
初回盤のみスリップ・ケース仕様

(カナダ・英国版カバー)

TRACK LISTING
"Elvis World Japan" Scoop!(Aug.14)
That's All Right 1:53
I Forgot To Remember To Forget 2:28
Blue Suede Shoes 1:58
I Want You, I Need You, I Love You 2:40
Love Me 2:43
Mean Woman Blues 2:17
Loving You 2:14
Treat Me Nice 2:13
Wear My Ring Around Your Neck 2:15
King Creole 2:08
Trouble 2:17
I Got Stung 1:50
I Need Your Love Tonight 2:04
A Mess Of Blues 2:38
I Feel So Bad 2:54
Little Sister 2:30
Rock-a-Hula Baby 1:58
Bossa Nova Baby 1:58
Viva Las Vegas 2:16
If I Can Dream 3:08
Memories 3:04
Don't Cry Daddy 2:43
Kentucky Rain 3:20
You Don't Have To Say You Love Me 2:29
An American Trilogy 4:28
Always On My Mind 3:37
Promised Land 2:50
Moody Blue 2:53
Bonus Tracks:
I'm A Roustabout 2:11 (Previously Unreleased)
Rubberneckin' 3:28 (Oakenfold Remix)


Best Buy
With bonus CD containing "Too Much Monkey Business" (Take 9) & "That's All Right" (1970 Live)

Target
With bonus CD containing "Viva Las Vegas" (Take 1-2) & "Bridge Over Troubled Water" (Take 1)
---

(Sept.29, 2003) (Sept.9, 2003, Thanks to Henrik of Elvis Unlimited) (Sept.7, 2003)
"Takin' Tahoe Tonight!"
(FTD #24) 82876-53367-2
Release Date; Oct.1, 2003

This is a soundboard recording recorded in the "High Sierra Theatre" at the Sahara Tahoe Hotel, Nevada at 3AM on May 13, 1973. The bonus songs are from the midnight show the same night. Mono.

Track Listing:
Also Sprach Zarathustra 1:19
See See Rider 2:45
I Got A Woman / Amen 3:48
Help Me Make It Through The Night 2:26
Steamroller Blues 2:54
You Gave Me A Mountain 3:09
Love Me 1:44
Blue Suede Shoes 1:00
Long Tall Sally / Whole Lotta Shakin' Goin' On / Your Mama Don't Dance / Shake, Rattle And Roll 2:36
My Way 3:41
Hound Dog 1:18
What Now My Love 3:01
Suspicious Minds 3:41
Introductions 1.18
I'll Remember You 2:45
I Can't Stop Loving You 2:20
Bridge Over Troubled Water 5:34
Funny How Time Slips Away 3:04
It's Over 2.12
Release Me 0:33
Faded Love 2:25
Can't Help Falling In Love 2:05
Bonus Songs
I'm Leavin' 3:10
A Big Hunk O' Love 2:03



---
(Aug.4, 2003) (June 4, 2003. Thanks to Kikuo Suzuki)
(May 27, 2003) (May 16, 2003. Thanks to Kikuo Suzuki)
(Apr.19, 2003) (Apr.9-10, 2003, Thanks to Paul Dowling of WorldWide Elvis)
日本盤 「エルヴィス・クローズ・アップ」

 直輸入盤日本仕様 (\8000)
 発売日: 8月16日  CD番号: BVCZ-37016
 日本盤は輸入盤CDに日本独自のブックレット (解説訳、歌詞、対訳)がつき 初回限定発売となります。
 予約特典: B3サイズ・ポスター
CLOSE UP MATRIX NUMBERS
(Elvis World Japan Scoop!)
DISC 1
UNRELEASED STEREO MASTERS FROM THE 50'S
1
H2WB 0258
(There'll Be) Peace In The Valley (For Me)
Take 9 - Master - 1/13/57
3:30
2
H2WB 0259
I Beg Of You
Take 11 - 1/13/57
1:58
3
H2WB 0260
That's When Your Heartaches Begin
Take 2 - 1/13/57
3:44
4
H2WB 0282
It's No Secret
Take 13 - Master - 1/19/57
3:56
5
H2WB 0283
Blueberry Hill
Take 9 - Master - 1/19/57
2:40
6
H2WB 0284
Have I Told You Lately That I Love You
Take 15 - Master - 1/19/57
2:36
7
H2WB 0285
Is It So Strange
Take 12 - Master - 1/19/57
2:33
8
WPA5 2539
Loving You - Fast version
Take 5 - 2/14/57
1:38
9
WPA5 2539
Loving You - Fast version
Take 15 - 2/14/57
1:36
10
H2WB 6779
Jailhouse Rock
Master - 4/30/5
3:20
11
HAR1 8681
Treat Me Nice - 1 version
Take 19 - 4/30/57
2:11
12
H2WB 6777
Young And Beautiful - Master
Takes 21-22 - 4/30/57
3:25
13
WPA5 2507
Young And Beautiful - Solo - Master
Take 3 - 4/30/57
1:33
14
HAR1 8682
Young And Beautiful - Nightclub - Master
Take 7 - 4/30/57
1:05
15
WPA5 2508
I Want To Be Free - Movie version
Take 12 - 5/3/57
2:14
16
H2WB 6781
I Want To Be Free - Record version
Take 11 - 5/3/57
2:17
17
H2WB 6778
Treat Me Nice - Second version
Take 13 - 5/3/57
2:40
18
WPA5 2600
Don't Leave Me Now - First version
5/3/57
1:47
19
HRA1 8684
Don't Leave Me Now - Second Version
5/3/57
1:59
20
HRA1 8684
(You're So Square) Baby I Don't Care
Take 1 - 5/3/57
2:35
DISC 2
UNRELEASED MOVIE GEMS
1
L2PB 3682
G.I. Blues
Take 6 - 4/27/60
2:04
2
L2PB 3688
Doin' The Best I Can
Takes 10, 11, 12 - 4/27/60
4:35
3
L2PB 3681
Wooden Heart
Take 1 - 4/28/60
2:11
4
WPA5 2544
Pocketful Of Rainbows
Takes 15, 16 - 4/28/60
3:41
5
L2PB 3684
Shoppin' Around
Takes 4, 5 - 5/6/60
2:47
6
L2PB 3680
Frankfort Special
Takes 4, 5 - 5/6/60
4:31
7
WPA5 2545
Big Boots (fast)
Take 1 - 5/6/60
1:10
8
LSPB 3975
Tonight's All Right For Love
Takes 14, 15 - 5/6/60
1:54
9
M2PB 1986
Summer Kisses, Winter Tears
Take 2 - 8/8/60
2:43
10
M2PB 1987
Flaming Star
Take 2 - 10/7/60
2:30
11
WPA5 2504
Lonely Man (solo)
Take 3 - 11/7/60
2:10
12
L2PB 5384
In My Way
Take 2 - 11/7/60
1:28
13
L2PB 5385
Forget Me Never
Take 1 - 11/7/60
1:33
14
L2PB 5383
Wild In The Country
Takes 1 & 14 - 11/7/60
2:57
15
L2PB 5381
Lonely Man
Take 1 - 11/7/60
3:27
16
WPA5 2548
I Slipped, I Stumbled, I Fell
Takes 14, 15, 16 - 11/8/60
2:59
17
M2PB 2986
Aloha Oe
Take 1 - 3/21/61
1:20
18
M2PB 2994
Hawaiian Sunset
Take 3 - 3/21/61
3:05
19
M2PB 2991
Ku-U-I-PO
Takes 6, 7 - 3/21/61
3:01
20
M2PB 2987
No More
Take 11 - 3/21/61
2:25
21
M2PB 2993
Slicin' Sand
Takes 6 & 7 - 3/21/61
3:10
22
WPA5 2549
Steppin' Out Of Line
Take 15 - 3/22/61
1:56
23
M2PB 2985
Almost Always True
Take 3 - 3/22/61
2:27
24
M2PB 2990
Moonlight Swim
Take 4 (edited) - 3/22/61
2:12
25
M2PB 2988
Can't Help Falling In Love
Takes 14, 15, 16 - 3/23/61
3:13
DISC 3
THE MAGIC OF NASHVILLE
1
L2WB 0081
Make Me Know It
Take 1 - 3/20/60
2:19
2
L2WB 0082
Soldier Boy
Take 10 - 3/20/60
3:00
3
L2WB 0086
It Feels So Right
Take 1 - 3/20/60
2:08
4
L2WB 0101
The Girl Of My Best Friend
Take 9 - 4/3/60
2:28
5
L2WW 0377
Surrender
Takes 5 & 6 - 10/30/60
2:30
6
L2WW 5001
Working On The Building
Take 4 - 10/30/60
1:59
7
M2WW 0575
Starting Today
Take 1 - 3/12/61
2:08
8
M2WW 0857
Kiss Me Quick
Take 4 - 6/25/61
2:59
9
M2WW 0858
That's Someone You Never Forget
Take 7 - 6/25/61
3:00
10
M2WW 0860
(Marie's The Name) His Latest Flame
Take 12 - 6/25/61
2:20
11
M2WW 1005
I Met Her Today
Take 16 - 10/15/61
2:46
12
M2WW 1006
Night Rider
Take 1 - 10/15/61
2:20
13
N2WW 0693
Just Tell Her Jim Said Hello
Take 4 - 3/19/62
1:52
14
PPA4 0290
Echoes Of Love
Take 8 - 5/26/63
2:37
15
RPA4 1005
Ask Me
Take 7 - 1/12/64
2:15
16
TPA4 0910
Stand By Me
Take 10 - 5/25/66
2:40
17
TPA4 0920
Somebody Bigger Than You And I
Take 15 - 5/27/66
2:46
18
TPA4 0921
Without Him
Take 8 - 5/27/66
3:07
19
UPA4 2767
Mine
Takes 9 - 9/10/67
2:51
20
UPA4 2768
Singing Tree - First version
Take 4 - 9/10/67
2:55
21
WPA1 1807
U.S. Male
Take 10 - 1/17/68
3:15
DISC 4
LIVE IN TEXAS 1972
1
LRA1 9250
Also Sprach Zarathustra
4/18/72
1:19
2
LRA1 9251
See See Rider
4/18/72
2:52
3
LRA1 9252
Proud Mary
4/18/72
2:37
4
LRA1 9253
Never Been To Spain
4/18/72
3:30
5
LRA1 9254
You Gave Me A Mountain
4/18/72
3:12
6
LRA1 9255
Until It's Time For You To Go
4/18/72
2:29
7
LRA1 9256
Polk Salad Annie
4/18/72
2:52
8
LRA1 9257
Love Me
4/18/72
1:50
9
LRA1 9258
All Shook Up
4/18/72
1:00
10
LRA1 9259
(Let Me Be Your) Teddy Bear / Don't Be Cruel
4/18/72
1:46
11
LRA1 9260
Heartbreak Hotel
4/18/72
1:44
12
LRA1 9261
Hound Dog
4/18/72
1:20
13
LRA1 9262
How Great Thou Art
4/18/72
2:57
14
LRA1 9263
I Can't Stop Loving You
4/18/72
2:25
15
LRA1 9264
Love Me Tender
4/18/72
1:41
16
LRA1 9265
Suspicious Minds
4/18/72
4:22
17
LRA1 9266
Introductions
4/18/72
1:17
18
LRA1 9267
For The Good Times
4/18/72
3:08
19
LRA1 9268
Burning Love
4/18/72
2:16
20
LRA1 9269
An American Trilogy
4/18/72
4:43
21
LRA1 9270
Funny How Time Slips Away
4/18/72
3:08
22
LRA1 9271
Can't Help Falling In Love
4/18/72
1:46
23
LRA1 9272
Closing Vamp
4/18/72
1:41
---
(July 30, 2003) (July 24, 2003)
(Cover art subject to change)
Rubberneckin'
Paul Oakenfold REMIX
ラバーネッキン 〜 ポール・オークンフォールド・リミックス

US Release Date, Sept.9, 2003
#82876-54218-2
#82876-54218-1 Vinyl
#82876-54341-2
#82876-54342-2 Digipack Limited Edition

日本盤発売 9月10日
BVCM-39601

Rubberneckin' - Radio Edit
Rubberneckin' - 12" Extended Version
Rubberneckin' - Original Version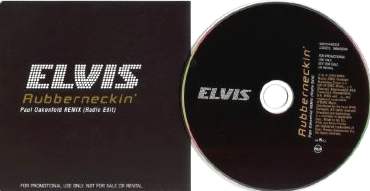 Rubberneckin' Promo CD in Europe
---

(July 14, 2003, Thanks to Kikuo Suzuki)

Press Release from BMG

Rubberneckin' (Paul Oakenfold Remix) / Elvis Presley
ラバーネッキン 〜 ポール・オークンフォールド・リミックス / エルヴィス・プレスリー
(1) Rubberneckin' - Radio Edit (Paul Oakenfold Remix)
(2) Rubberneckin' - 12inch Extended Version (Paul Oakenfold Remix)
(3) Rubberneckin' - Original Version
Release Date, Sept.8, 2003 RCA/BMG Heritage
日本発売日 2003年9月10日(予定)
12cmCD BVCM-39601 税込定価 \1,050

 2002年リリースした リミックス・シングル 「ア・リトル・レス・カンヴァセーション / ELV1S VS JXL (ジャンキーXL)」は 各国でNo.1を獲得し、 英では ビートルズの1位記録を抜き、 日本でも洋楽シングルチャートNo.1、 ラジオ・オン・エアNo.1等 全世界で大ブレイクする結果となった。
 そして2003年も 注目のリミックス・シングルが登場。 今回はエルヴィスの1969年の ファン以外ではあまりなじみのない 「ラバーネッキン」という楽曲を "今、世界で最もレコードを売るDJ" の異名を取る ポール・オークンフォールドが リミックス。 昨年同様 またしても エルヴィスの隠れた名曲がクールに蘇った。

<ラバーネッキン>
 1968年伝説のTV特番、 通称「68カムバック・スペシャル」で 見事に復活を遂げたエルヴィスが 再び本格的な音楽活動を再開したのが 故郷メンフィスの アメリカン・サウンド・スタジオでの1969年の レコーディング・セッションだった。 この中から 「サスピシャス・マインド」 「イン・ザ・ゲットー」等の No.1ソングが生まれた。 「ラバーネッキン」は この時の録音でシングル 「ドント・クライ・ダディ」の B面としてリリース。 また 1969年主演映画 「チェンジ・オブ・ハビット」 (日本未公開)の 挿入歌にもなった。

<ポール・オークンフォールド>
 ロンドン生まれ。 80年代後期から本格的活動を開始。 「マンチェスター・ムーブメント」の重要人物であり ハッピー・マンデーズのプロデュースも手がける。 ハウス、 テクノ、 トランス等あらゆるフィールドを得意とし、 90年代半ばにはUSでもブレイクを果たし、 現在に至るまで常に最前線の ダンス・ミュージック・シーンに 君臨してきた。 U2、 ローリング・ストーンズ、 マドンナ他 多数の大物アーチストの リミックスを手がけ、 「ソードフィッシュ」 「追撃者」 「007ダイ・アナザー・デイ」他 多数の映画にサウンドを提供し 「マトリックス・リローデッド」の サントラにも参加している。 2002年 長いキャリアにして初のソロ・アルバム "BUNKKA"を リリース。 「世界で最も成功したDJ」として ギネス・ブックにも登録されている。

ELVIS 2ND TO NONE
2ND TO NONE 〜 エルヴィス・オンリー・ワン / エルヴィス・プレスリー
Release Date, Oct.6, 2003 (Oct.7 in US) RCA/BMG Heritage
日本発売日 2003年10月8日
12cmCD BVCM-31104 税込定価 \2,548

 2002年 全世界的なシングル・ヒットとなった 「ア・リトル・レス・カンヴァセイション」と ベスト盤 「ELV1S 30 No.1 ヒッツ」の 大成功により さらなるファンが広まり、 その後も 大きな話題となったミュージカル 「エルヴィス・ストーリー」の上陸、 娘のリサ・マリーのデビューと来日、 エルヴィスのヒット曲が 7曲使用された映画 「リロ&スティッチ」、 たびたび放送されるTV特番等、 エルヴィスに関する話題は 絶えることを知らない。
 今年の命日には BMGからも オール未発表音源の4枚組CD 「クローズ・アップ」がリリースされ、 引き続き 昨年の「ELV1S 30 No.1 ヒッツ」に続く 第二ベスト「エルヴィス・オンリー・ワン」を 10/8リリース。 収録内容は「ELV1S 30 No.1 ヒッツ」にもれたNo.1曲と エルヴィスのキャリアの中の 重要な代表曲で構成される。
 No.1以外の曲でも エルヴィスには 多くの有名曲があり、 ベスト盤を構成するには十二分な内容である。 さらに 昨年の 「ア・リトル・レス・カンヴァセイション」のような Rimixにより エルヴィスの楽曲を蘇らせ ヒット・シングルをリリース。 その曲も 「エルヴィス・オンリー・ワン」に ボーナス・トラックとして収録。
 今回のリミックスを手がけるのは、 "今、世界で最もレコードを売るDJ" の異名を取るポール・オークンフォールド。 最近では 「マトリックス・リローデッド」のサントラにも参加。 来日も果たし話題をまいている。 曲は69年の「ラバーネッキン」というシングル。 「ドント・クライ・ダディ」のB面ソングで、 その当時の主演映画 「チェンジ・オブ・ハビット」 (日本未公開)の挿入歌になったもので、 これもまたあまり多くの人に知られていない曲だ。
---
(July 4, 2003)
"The Movie Songs" (Green Hill Music)

TRACK LISTING
Return To Sender
Jailhouse Rock
Teddy Bear
Blue Hawaii
Bossa Nova Baby
Viva Las Vegas
Hard Headed Woman
Flaming Star
Kissin Cousins
Please Don't Stop Loving Me
Clean Up Your Own Backyard
A Little Less Conversation


The Love Songs (Green Hill Music)
The Gospel Songs (Green Hill Music)
The Christmas Songs (Green Hill Music)
The Country Songs (Green Hill Music)
Hits of Fifties (Green Hill Music)



---

(June 10, 2003, Thanks to Henrik of Elvis Unlimited) (May 22, 2003)
"Dragonheart"
(Live in South Bend on Oct. 1, 1974)
(FTD #23) 82876-53366-2
Release Date; June 30, 2003

Track Listing:
See See Rider 3:42
I Got A Woman/Amen 6:56
Love Me 1:29
Blue Suede Shoes 1:24
It's Midnight 3:46
Big Boss Man 2:35
Fever 3:38
Love Me Tender 2:14
Hound Dog 2:04
Heartbreak Hotel 2:21
If You Love Me 2:50
Bridge Over Troubled Water 4:25
Introductions 5:01
Lawdy Miss Clawdy 1:36
Introductions 0:51
All Shook Up 1:00
Teddy Bear/Don't Be Cruel 2:02
Let Me Be There 3:22
It's Now Or Never 2:34
You Gave Me A Mountain 3:14
Johnny B. Goode 4:00
Hawaiian Wedding Song 2:31
Steamroller Blues 2:48
Can't Help Falling In Love 1:39
Closing Vamp and Announcements 0:56
(Bonus tracks)
Alright, Okay, You Win (74-09-29 Detroit)
Trying To Get To You (74-09-28 College Park)
Blue Christmas (74-09-28 College Park)



---
(Apr.9, 2003) (Apr.3, 2003, Thanks to Paul Dowling of WorldWide Elvis)
BMG 2003 PLANS
SPECIAL NOTE: The information below was obtained from a very informed source at BMG U.S. I must stress that nothing written below has definitely been agreed upon and discussions are still taking place. As most of you know, I do not like to print anything unless I feel that my source and the information is pretty reliable. This does not mean that ALL of the releases below will come out. It may also be that some of the 68 and ALOHA material will appear on the box set and the individual CD's will be cancelled. There are rumors that there may be another remix CD single like LLC but, if so, that may only happen overseas as the US has no plans to do this!!

"CLOSE UP" (4-CD Box Set) Release date; July 1

"ELV1S: 2ND TO NONE" Release date; September 9th
BMG will follow up the 30 # 1 HITS CD with another compilation of songs featuring the newly remastered "new sound".No track listing is available right now but it's assumed (as we have reported for months!) that this will have songs that were in the Top 10 worldwide!

"ELVIS CHRISTMAS PEACE" (2-CD set) Release date; September 23rd
As you can tell from the title, this will be a 2 CD set with Xmas and gospel songs. There will probably be nothing unreleased on this.

"THE '68 COMEBACK - 35th ANNIVERSARY ISSUE" Release date; November
Because there will be a new 68 TV SPECIAL DVD out this year, BMG may market this audio CD along with the DVD but it's too early to tell right now.

"ALOHA FROM ELVIS - 30 YEARS LATER!" Release date; ????
As with the 68 DVD reissue due this year, BMG might release a remastered ALOHA CD to go along with it but plans are still up in the air for this
---
(Mar.3, 2003, Thanks to Lars Gjeding of Elvis Unlimited and Deelen)
FTD EXTRA RELEASES: As a direct consequence of BMG's current streamlining of the world wide Elvis catalogue, a fair portion of Elvis' original music becomes unavailable. It's been agreed that FOLLOW THAT DREAM will re-release these masters in order that they will always be available to "REAL FANS". To make this attractive we are re-releasing original albums along the following lines:

1) 7" format cover (like a single or EP)
2) Original back and front cover
3) 3 panel Gatefold sleeve
4) 8 page booklet with photos and memorabilia
5) Original album with original album EQ
6) Additionally all previously released outtakes (if space permits)
7) Additionally previously unreleased outtakes (when available and space permits)

The first three of these release will be available with the release of STUDIO B. There is no minimum order on these (except multiples of 5) as long as your order is not less than 100 pieces in total (of any catalogue or new items). The price will be the same in spite of the extravagant packaging, and we are very keen to get feedback from you on fan-reaction, as we will try and respond with more releases based on your recommendations.

The first 3 titles are: "IT HAPPENED AT THE WORLD'S FAIR", "FUN IN ACAPULCO" & "GIRL HAPPY"
It Happened At The World's Fair
(FTD #1001) 82876-50409-2
Release Date; Apr.15, 2003

Track Listing:
Beyond The Bend - 1:50
Relax - 2:21
Take Me To The Fair - 1:34
They Remind Me Too Much Of You - 2:31
One Broken Heart For Sale - 1:38
I'm Falling In Love Tonight - 1:40
Cotton Candy Land - 1:36
A World Of Our Own - 2:14
How Would You Like To Be - 3:27
Happy Ending - 2:09
One Broken Heart For Sale - takes 2,3,1 - 4:12
They Remind Me Too Much Of You - take 1 - 2:34
I'm Falling In Love Tonight - take 1-4 - 3:16
Beyond The Bend - take 1, 2 - 3:32
Cotton Candy Land - take 1,2,4 - 2:35
How Would You Like To Be - take 2 - 3:33
They Remind Me Too Much Of You - take 4 - 2:30
Beyond The Bend - take 3 - 1:58
Take Me To The Fair - take 6 - 3:54
I'm Falling In Love Tonight - take 6 - 1:56
They Remind Me Too Much Of You - take 6,7 - 2:44
Relax - take 5,6,7 - 2:50
Happy Ending - take 4,5,6 - 3:35
Take Me To The Fair - from acetate - 1:32
Fun In Acapulco
(FTD #1002) 82876-50407-2
Release Date; Apr.15, 2003

Track Listing:
Fun In Acapulco - 2:29
Vino, Dinero Y Amor - 1:53
Mexico - 1:58
El Toro - 2:41
Marguerita - 2:39
The Bullfighter Was A Lady - 2:02
No Room To Rhumba In A Sports Car - 1:52
I Think I'm Gonna Like It Here - 2:51
Bossa Nova Baby - 2:02
You Can't Say No In Acapulco - 1:54
Guadalajara - 2:43
Love Me Tonight - 2:00
Slowly But Surely - 2:14
Mexico - take 7 - 1:58
The Bullfighter Was A Lady - remake take 17 - 2:01
I Think I'm Gonna Like It Here - remake takes 18,19 - 2:35
Bossa Nova Baby - takes 1,2 - 2:53
The Bullfighter Was A Lady - takes 4,5,6 - 3:52
Marguerita - take 6 - 2:51
I Think I'm Gonna Like It Here - take 1-2:51
Mexico - takes 1,2 - 2:41
You Can't Say No In Acapulco - takes 1,2,3,4 - 3:11
Guadalajara - take 2 - 2:27
Bossa Nova Baby - take 3 - 2:48
Mexico - take 6 - 2:10
I Think I'm Gonna Like It Here - takes 11,12,13-remake - 3:54
Guadalajara - takes 3,4 - 2:55
Girl Happy
(FTD #1003) 82876-50408-2
Release Date; Apr.15, 2003

Track Listing:
Girl Happy - 2:07
Spring Fever - 1:51
Fort Lauderdale Chamber Of Commerce - 1:31
Startin' Tonight - 1:19
Wolf Call - 1:28
Do Not Disturb - 1:57
Cross My Heart And Hope To Die - 1:52
The Meanest Girl In Town - 1:55
Do The Clam - 3:19
Puppet On A String - 2:39
I've Got To Find My Baby - 1:29
You'll Be Gone - 2:20
Puppet On A String - takes 5,6,7 - 3:45
The Meanest Girl In Town - takes 7,8,9 - 3:52
Spring Fever - take 4 - 1:55
Do Not Disturb - takes 24,25,26,27 - 6:05
Cross My Heart And Hope To Die - take 4 - 2:02
Girl Happy - takes 1,2,3,4 - 7:03
Puppet On A String - take 10 - 2:47
Spring Fever - takes 18,19,21 - 3:47
The Meanest Girl In Town - take 11 - 2:24
Do Not Disturb - take 35 - 2:04
Cross My Heart And Hope To Die - take 9,10,11 - 4:00
Girl Happy take 13 and take 4 of ending - 3:08
---
(Mar.3, 2003, Thanks to Lars Gjeding of Elvis Unlimited)
(Feb.11, 2003, Thanks to Deelen)
STUDIO B - Nashville Outtakes 1961-64
(FTD #22) 82876-50411-2
Release Date; Apr.15, 2003

Track Listing:
Kiss Me Quick - take 1 - 2:59
That's Someone You Never Forget - take 5 - 2:51
I'm Yours - take 4 - 2:24
His Latest Flame - takes rehearsal & 2 - 4:05
Little Sister - takes 1,2,3 - 3:39
For The Millionth And The Last Time - take 1 - 2:06
Anything That's Part Of You - takes 4,5 - 2:33
I Met Her Today - takes 8-9 - 3:04
Something Blue - takes 3,4 - 3:25
Gonna Get Back Home Somehow - take 1 - 2:37
Easy Question - take 3 - 2:47
Fountain Of Love - takes 1,2 - 2:51
Just For Old Time Sake - takes 3-4 - 2:51
Night Rider - takes 2-3 - 2:56
You'll Be Gone - take 1 - 2:31
I Feel That I've Known You Forever - take 1 - 1:42
Just Tell Her Jim Said Hello - take 2 - 1:55
Echoes Of Love - takes 2-3 - 3:01
Please Don't Drag That String Around- take 2 - 2:06
Love Me Tonight - take 3 & 4 - 2:38
Western Union - take 3 - 2:25
Memphis Tennessee - take 1 - 2:44
Ask Me - take 8-9 - 2:43
---
(Feb.14, 2003) (Feb.11, 2003) (Jan.8, 2003)
CD "To Whom It May Concern"
Lisa Marie Presley

USA; Apr.8 (Capitol Records)
Japan; March 29 (Toshiba-EMI)
EU; March 24 (EMI-Electrola) amazon.de

Track Listing:
S.O.B.
The Road Between
Lights Out
Better Beware
Nobody Noticed It
Sinking In
Important
So Lovely
Indifferent
Gone
To Whom It May Concern
Excuse Me (Japan & Germany only?)
Lights Out [video] (USA & Germany only?)
---
(Feb.11, 2003, Thanks to Deelen)
(Dec.14, 2002, Thanks to Lars Gjeding of Elvis Unlimited)
Elvis - New Year's Eve '76
(Live in Pittsburgh)
(FTD #21) 82876-50410-2
Release Date; Mar.15,2003


Track Listing:
Disc-1
Also Sprach Zarathustra - 1:09
See See Rider - 3:51
I Got A Woman/Amen - 8:12
Big Boss Man - 2:55
Love Me - 2:28
Fairytale - 2:47
You Gave Me A Mountain - 3:20
Jailhouse Rock - 1:41
O Sole Mio/It's Now Or Never-4:32
My Way - 4:44
Funny How Time Slips Away-1:51
Auld Lang Syne - 1:13
Introductions - 0:46
Blue Suede Shoes - 1:07
Trying To Get To You - 2:34
Polk Salad Annie - 4:08
Disc-2
Band Introductions - 1:42
Early Morning Rain - 2:22
What'd I Say - 0:48
Johnny B. Goode - 0:54
Solos - 4:07
Love Letters - 2:44
School Days - 1:19
Fever - 3:07
Hurt - 2:39
Hound Dog - 1:41
Are You Lonesome Tonight?-2:50
Reconsider Baby - 2:53
Little Sister - 2:12
Unchained Melody - 3:40
Rags To Riches - 2:25
Can't Help Falling In Love - 1:40
Closing Vamp - 1:52
---
(Feb.2, 2003)

Japan
"Lilo & Stitch" Soundtrack CD

TRACK LISTING
Hawaiian Roller Coaster Ride (Mark Keali'i Ho'omalu and Kamehameha School Children's Chorus) 3:28
Stuck On You (Elvis Presley) 2:25
Burning Love (Wynonna) 3:09
(Real Player: Direct play)
Suspicious Minds (Elvis Presley) 4:23
Heartbreak Hotel (Elvis Presley) 2:14
Devil In Disguise (Elvis Presley) 2:31
He Mele No Lilo (Mark Keali'i Ho'omalu and Kamehameha School Children's Chorus) 2:28
Hound Dog (Elvis Presley) 2:28
Can't Help Falling In Love (A*Teens) 3:08
(Real Player: Direct play)
Stitch To The Rescue (Score by Alan Silvestri) 5:55
You Can Never Belong (Score by Alan Silvestri) 3:54
I'm Lost (Score by Alan Silvestri) 4:40
---
(Jan.12, 2003, Thanks to Dora)
"Lights Out"
Lisa Marie Presley
4-track promo CD

Tracks:
S.O.B.
The Road Between
Lights Out
Nobody Noticed It
---





E-mail to lmt@rrm.co.jp (Love Me Tender)
Go to: Previous CD News (Jan.-Apr., May-Aug., Sep.-Dec., 2002)
Go to: Previous CD News (Jan.-June, July-Aug., Sep.-Dec., 2001)
Go to: That's The Way It Is - Special Edition (2000)
Go to: Previous CD News (Jan.-Apr., May, June-Aug., Sep.-Nov., Dec., 2000)
Go to: TIME-LIFE's 'THE ELVIS PRESLEY COLLECTION'
Go to: Previous CD News (Jan.-June, July-Dec., 1999)
Go to: ARTIST OF THE CENTURY (1999)
Go to: Previous CD News (1998)
Go to: Previous CD News (1997)
Go to: Previous Elvis News & CD News (1996)