Elvis DVD Video News
(Compiled by Haruo Hirose)



2009 Elvis DVD Releases
Jan. 6
USA-Warner
(Region 1)
4 Film Favorites: Elvis Presley Classics (4-DVD)
(Jailhouse Rock, It Happened at the World's Fair, Charro, Stay Away Joe)
Feb.17
USA-
HannoverHouse
(Region 1?)
Hounddog (Dakota Fanning)
Aug. 4
USA-Image
(All Region)
Elvis Presley: The Ed Sullivan Show:
The Classic Performances (1-DVD)


Aug.11
USA-EchoBridge
(Region 1)
Lonely Street (Robert Patrick as Elvis)
Aug.21
Japan-Geneon
(Region 2)
Elvis 3D
飛び出す!エルヴィス (\3,990)
Aug.16
USA-Madacy
(All Region)
Elvis Presley, Gladiators
(The 1974 Elvis Karate Legacy Project)
ShopElvis
Aug.25
USA-EMI
(All Region)
Elvis: Love Me Tender - The Love Songs


Sep. 9
Japan-Warner
(Region 2)
That's The Way It Is, Special Edition (Re-release)
エルヴィス・オン・ステージ (\980)
Sep.29
USA-WellGo
(All Region)
Elvis Complete, King Of Rock 'N' Roll (2-DVD)


Sep.29
USA-ArtsMagic
(Region 1?)
Elvis: To Memphis & Beyond (4-DVD, Re-release)
(昨年に発売された "Elvis' Memphis" と "Beyond Elvis' Memphis" を 合体したものでしょう)


Oct.13
USA-AliveMind
(Region 1?)
Return To Tupelo (Re-release)


Oct.20
USA-AudioFidelity
(Region 1?)
From The Beginning To The End / Generous Heart (Re-release, 2-DVD)


Nov.11
Japan-EMI
(Region 2)
Elvis: Love Me Tender - The Love Songs
ラヴ・ミー・テンダー (\4,800) 発売中止
---

(Nov. 2, 2009) (July 17, 2009)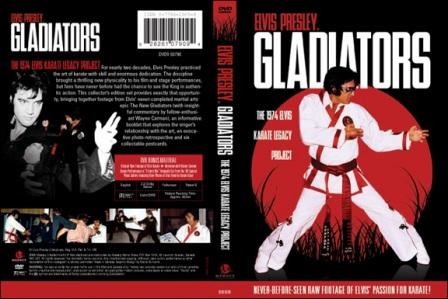 "Elvis Presley Gladiators - The 1974 Elvis Karate Legacy Project"
Release Date: Jan.5, 2010


\1,249
For nearly two decades, Elvis Presley practiced the art of karate with skill and enormous dedication. The discipline brought a thrilling new physicality to his film and stage performances, but fans have never before had the chance to see the King in authentic action.
A collector's edition set from Madacy Entertainment available this Fall provides exactly that opportunity, bringing together footage from Elvis' never-completed martial arts epic The New Gladiators along with insightful commentary by fellow-enthusiast Wayne Carman who was with Elvis when much of the footage was shot.
This exciting NEW collectors set also includes an informative booklet that explores the singer's relationship with the art of karate, an evocative photo-retrospective and six collectable postcards.
Elvis Presley Gladiators - The 1974 Elvis Karate Legacy Project will be available at Graceland in the fall and fans will soon be able to pre-order this exciting new product on shopelvis.com.
 オール・リージョンですので 国内のDVDプレーヤーで 再生可能です。
 本編49分、プラス ボーナス映像:
  Wayne Carman Interviews
  "It Hurts Me" from '68 TV Special
  Photo Gallery
  大型絵はがき(カラテ写真)6枚、解説書
---
(June 17, 2009)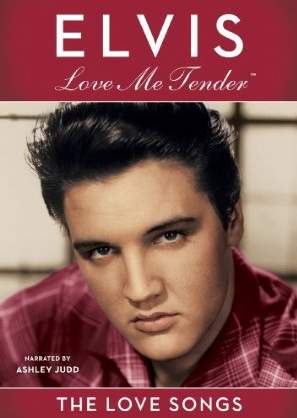 "Elvis: Love Me Tender - The Love Songs"
Release Date: Aug.25, 2009


(2009年11月11日 発売延期 日本盤発売 「ラヴ・ミー・テンダー」

\4,800)
EMI Music will release a brand new documentary entitled "Elvis: Love Me Tender - The Love Songs" on August 25th. EMI is also the producer of the highly succesfull concertregistration "Elvis Lives" and the gospel documentary "He Touched Me".
"Elvis: Love Me Tender - The Love Songs" is the first-ever in-depth look at the love songs of Elvis. This documentary explores the remarkable music that sparked such phenomenal devotion in the hearts of fans worldwide.
The documentary is hosted by Golden Globe-nominated actress Ashley Judd and packs 20 performances with interviews and other footage into a 120-minute DVD that is sure to be a 'must have' for Elvis fans today and for years to come.
Tracklisting:
I Want You, I Need You, I Love You (THE STEVE ALLEN SHOW)
Love Me Tender (THE ED SULLIVAN SHOW)
Love Me Tender (LOVE ME TENDER)
Loving You (LOVING YOU)
Love Me (THE ED SULLIVAN SHOW)
As Long As I Have You (KING CREOLE)
Witchcraft (THE FRANK SINATRA SHOW)
It's Now or Never (non-performance)
I'm Falling In Love Tonight (IT HAPPENED AT THE WORLD'S FAIR)
Today, Tomorrow and Forever (VIVA LAS VEGAS)
All That I Am (SPINOUT)
You Don't Know Me (CLAMBAKE)
Almost In Love (LIVE A LITTLE, LOVE A LITTLE)
Are You Lonesome Tonight (1968 TV Special)
Can't Help Falling In Love (1968 TV Special)
I Can't Stop Loving You (THAT'S THE WAY IT IS)
The Wonder of You (THAT'S THE WAY IT IS)
Always On My Mind (non-performance)
For The Good Times (non-performance)
What Now My Love (ALOHA FROM HAWAII)
I'll Remember You (ALOHA FROM HAWAII)
Love Me Tender (THAT'S THE WAY IT IS)
 オール・リージョンですので 国内のDVDプレーヤーで 再生可能です。
 本編80分、プラス ボーナス映像:
  Joe Moscheo, Ed Enoch, Gordon Stoker & Myrna Smith Interviews
  Graceland Commercials features Elvis
---
(June 17, 2009)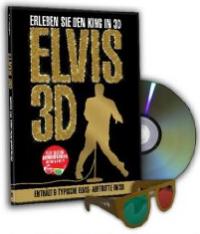 "Elvis 3D" DVD
Amazon.de
 昨年、EUで発売された DVD "Elvis 3D" が、 「飛び出す!エルヴィス、Elvis 3D」 なるタイトルで 日本でも 発売されるようです。 私は EU盤 (Pal方式、Region 2 仕様) を持ってますが、 たとえ 500円だったにしても、 推薦できるような 代物ではありません。
---
(May 21, 2009)
Elvis Presley:
The Ed Sullivan Show:
The Classic Performances (1-DVD)

Release Date (USA): Aug. 4, 2009

 (オール・リージョンでしたので、 日本のDVDプレーヤーでも 再生できます。)



Share the excitement of Elvis Presley's earthshattering introduction to the nation in this collection of iconic performances from "The Ed Sullivan Show," and experience for yourself why Elvis became the legendary King of Rock and Roll!
Appearing on the show Sept. 9, 1956, Elvis sent shock waves through a repressed nation with his soulful singing, wild hip gyrations and raw energy, attracting a record-breaking TV audience of more than 60 million people.
Presley returned on Oct. 28, 1956, continuing to provoke ecstatic screams with hits such as "Don't Be Cruel," "Love Me Tender" and "Hound Dog." In fact, these exhilarating performances were so explosive that Elvis was filmed above the waist during his final Sullivan show appearance on January 6, 1957!

SPECIAL FEATURES: Remembering Ed and Elvis; Why Ed Didn't Host Elvis' First Appearance; Elvis and Ed: Intros and Promos; Caught on Celluloid: The First Moving Pictures of Elvis Presley; Special Elvis Moments; Jerry Shillings Home Movies; Documents from the Graceland Archives; Documents from the Sullivan Archives.

---

Elvis Presley: The Ed Sullivan Shows
 DVD 3枚組 既発売 日本盤
Release Date (Japan): Nov.24, 2006
---

Go to: Previous DVD News (2008)
Go to: Previous DVD News (2007)
Go to: Previous DVD News (2006)
Go to: Previous DVD News (2005)
Go to: Previous DVD News (July-Dec., 2004)
Go to: Previous DVD News (Jan.-June, 2004)
Go to: Previous DVD News (2003)
Go to: Previous DVD News (Aug.-Dec., 2002)
Go to: Previous DVD News (Jan.-July 2002)
Go to: Previous DVD News (June-Dec. 2001)
Go to: Previous DVD News (Oct.2000 - May 2001)
Go to: Previous DVD News (June-Sept, 2000)
Go to: Previous DVD News (Jan-May, 2000)