PDF (703

KB

ZIP)
A local wetland CEPA project:


Ramsar Jouyaku-wo Katsuyou-shiyou




ラムサール条約を活用しよう


- Introducing Ramsar tools for conservation and wise use of wetlands in Japanese language -


-湿地保全のツールを読み解く-
Edited by

Biwa-ko Ramsar Kenkyu-kai

(Biwa-ko Wetland Study Group), 2001-2012


◆

琵琶湖ラムサール研究会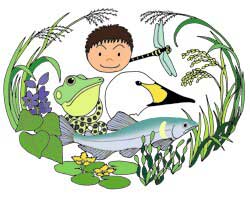 English summary
Some wetland scientists established a study group "Biwa-ko Ramsar Kenkyu-kai" (BRK), and started the project in 2001 towards enhancement of conservation and wise use of wetlands and its resources in Biwa-ko, the largest lake and a Ramsar Site no. 617 in Japan, as well as an Anatidae Network Site, in Japan, by introducing basic documents and information from the Convention on Wetlands (Ramsar, 1971) in Japanese language on the worldwide web as well as publications. The concept was raised through discussions while members developed their reports to a symoposium at Lake Biwa Research Institute (LBRI) of Shiga Prefecture Government, on waterbirds and wetlands in the lake, December 2000, in recognition of the need of wetland CEPA efforts in local language and contexts as guided in The Convention's Outreach Programme 1999-2002 (Paragraph 42) from the Ramsar COP7 in 1999, and later programme for 2003-2008 (Resolution VIII.31).
Each member of the study group has prepared an overview document on wetland issue relevant to the effort of his own, which is aimed at introduction to the Ramsar guideline or guidance to the issue. These documents have been compiled in Chapter 2, on such issues as local involvement, CEPA efforts, invasive species, riverbasin management, wetland restoration and mitigation, and migratory waterbirds. Additional authors have been sought for the issues not covered by members themselves, and so will be for issues raised in future.
Based on the overview in Chapter 2, the study group provided ideas and concepts which were useful for the on-site conservation efforts to be integrated in Biwa-ko in Chapter 3. Ramsar documents to be referred to in the 9th International Conference on the Conservation and Management of Lakes, which was held at Biwa-ko in November 2001, were also suggested in the chapter.
The study group also invited contributions from former staff of Ramsar Secretariat with brief introduction to the Convention in Chapter 1, as well as reports from the 2000 LBRI symposium.
The appended section of references has covered all of available Japanese translation of Ramsar Resolutions and Recommendations by permission of the publishers (Ministry of the Environment, Kushiro International Wetland Centre (KIWC), International Lake Environment Committee Foundation (ILEC), Ramsar Center Japan and Japan Federation of Bar Associations) and some other basic information translated by the study group themselves.
At the initial stage in 2001, financially supported by the Shiga Prefecture Government within its project commemorative of the new (21st) century "Movement Shiga" which enabled publication of booklet. The Biwako Waterfowl Wetland Center, which was established by Ministry of the Environment and has been managed by the local township government of Kohoku-cho, has hosted the portal site of the project in its worldwide web server. Mapped below were all the documents in this site in Japanese language.
Biwa-ko Ramsar Kenkyu-kai
(BRK)
contact
:
Mr. Satoru
Murakami
biwa@@mugen-ss.net
[ Please reduce from double to single at-mark. ]
Kaminiu 2289, Yogo-cho, Shiga-ken, 529-0512, Japan
---
A local wetland CEPA project:
Ramsar Jouyaku-wo Katsuyou-shiyou
- Introducing Ramsar tools for conservation and wise use of wetlands in Japanese language -
by

Biwa-ko Ramsar Kenkyu-kai

(Biwa-ko Wetland Study Group), 2001-2012
[ All pages are in Japanese; ]
[ so is title attribute of each link.]
Contents of the site
Introduction to the project and contents of chapters and appendices; column "What is COP, what are Resolutions and Recommendations" with linking to "
Introduction to the Ramsar web site
"; seeking additional contributions and acknowledgement; contact and members of the group.
Chapter 1: Introduction to the Ramsar Convention
"What is the Ramsar Convention" by Dr. Satoshi

Kobayashi

, presentation at "Ramsar Symposium Niigata 1996".
"The objectives and roles of the Ramsar Convention" by Dr. Mike Smart, presentation at "Asian Wetland Symposium 1993".
Reports from LBRI symposium on waterbirds and wetlands in the Biwa-ko, December 2000:
Chapter 2: Wetland issues considered in the Convention
Chapter 3: Towards the conservation and wise use of wetlands in Biwa-ko
Appendix: References